Phil pointed me in the direction of these images, and wow...
can they be any creepier??!! Lets take a look: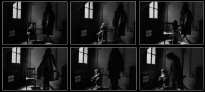 (Sorry about quality but these seem to be really hard to find.)
I think these are the pinnacle of 'uncanny' images. I actually find it rather uneasy to look at because of how the shadow seems to sit over the image. Because of the images I find it rather hard to see what exactly is happening but without that getting me down, You see how the chair sits in the light with the shambling shadow pulling itself to the girl. I think whats creepier is the fact that the girl follows the being into the darkness as opposed to being forcibly taken...
creepy